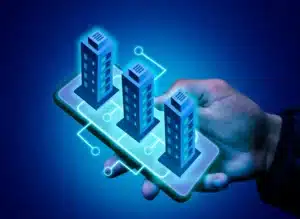 You probably haven't associated AI with real estate till now. While real estate investment trusts (REITs) dominate the sector, most transactions are still handled by traditional brokers and independent landlords, making real estate a sluggish innovator.
The real estate market is rapidly adopting artificial intelligence (AI), impacting commercial and residential properties. 
Data-intensive businesses are attractive targets for AI, and real estate has plenty. Estimates increasingly rely on AI-based algorithms rather than neighborhood comparisons and human opinion.
AI has transformed this industry from sales data management, AI-powered chatbots, and VR tours to listing and managing properties in a portal.
This blog will discuss how AI has been helping and is expected to help real estate businesses. So, let's dive into the details and know the future of  Real Estate with AI.
What is Real Estate Automation?
Efficient and uncomplicated real estate buying and selling procedures are the goals of real estate automation, which comprises a wide range of hardware, software, and mobile applications. This drastically reduces the time and effort needed to find properties, negotiate, communicate, and finally finish real estate transactions.
Automating Real Estate with AI is, without a doubt, the most significant development in today's technological environment and the backbone of the real estate marketing services industry.
The Role of AI in Real Estate
Real estate businesses earned $9.5 billion worldwide in 2021. Statista expects this sector to increase by 4.8% through 2030. Thus, by 2030, the real estate market should reach $14.6 billion, if not more.
Several critical factors may impact this significant market expansion, including:
Saturation of the Residential Real Estate Market:

This will undoubtedly shape its trajectory.

Government Infrastructure Spending:

Government infrastructure spending will also affect industry growth.
Additionally, automating Real Estate with AI will transform the industry. According to recent reports, nine of ten firms strategically invest in AI technologies. Gartner found that 37% of these companies use AI daily.
Automating Real Estate with AI has the potential to guarantee success. This automation could eliminate numerous manual tasks. As job tasks become superfluous, industry positions may change. The World Economic Forum predicts AI will eliminate 85 million jobs and create 97 million by 2025.
Real estate agents must evaluate how AI affects them. Initial reservations aside, AI should enhance these careers rather than replace them. AI might greatly benefit real estate agents, brokers, and other stakeholders.
AI can adapt and evolve based on the wealth of accessible data thanks to its data analysis and machine learning skills. Unfortunately, AI cannot replace humans in crucial real estate transactions. The sector relies on face-to-face encounters, document signing, and rapid, individualized service.
AI will ultimately improve the real estate industry. The human touch will continue to provide specialized and essential services to clients, even as it transforms some sector elements.
What Benefits Has AI Technology Bought for Real Estate Business?
Real Estate has brought about positive changes with AI technology adoption. Transforming real estate with AI has shown tremendous improvement. From optimizing data to automating Real Estate with AI for chat support systems, AI has simplified complex processes.
Error Reduction
Many businesses, including real estate, have been hampered by people's innate tendency to make mistakes for a long time. However, intelligent algorithms are not subject to these human constraints. Being a dependable source of knowledge in the real estate industry, they never get tired or forget important things. You can obtain a plethora of accurate data regarding the real estate market by utilizing the possibilities of AI model training.
24/7 Availability
Unlike human counterparts, AI operates round the clock, tirelessly and without the need for rest. This stands as one of its most significant advantages. You can only sometimes expect a real estate agent to be available beyond their working hours. 
However, AI is ever-ready. Assign algorithms tasks, and they will execute them diligently while learning and evolving based on the data they accumulate. This saves time and money and ensures that your potential clients are catered to, no matter the hour.
Exceptional Analytics
In real estate, extensive research is imperative for developing construction projects or presenting prospective clients with suitable properties. Generating comprehensive analysis demands time and effort, as not all information can be swiftly and efficiently uncovered. 
However, AI has revolutionized this aspect of the real estate business. Utilizing intelligent algorithms, it's possible to discern the optimal locations for constructing homes, identify the preferences of your primary clientele, and provide superior recommendation services. Real estate agents stand to gain immensely from the analytical capabilities of AI. Furthermore:
AI streamlines numerous manual tasks.

AI enhances the design of security and fire safety systems.

AI predicts property market values with precision.
Automating Real Estate with AI creates 100% more appealing properties to potential buyers.
Seamless Transactions
AI excels at identifying errors in various types of real estate documentation—a daily task for real estate agents. Leveraging AI in this domain leads to more accurate outcomes and increased engagement with key stakeholders. Given the daily copious amount of data the real estate industry handles, AI streamlines and fortifies processes, making them safer and more efficient.
Let's now see how to achieve these benefits or which real estate operation areas let you enjoy these benefits.
Automation in Real Estate Operations
The digital transformation/advancement wave is sweeping across industries in a rapidly changing business landscape. A McKinsey survey, which engaged 800 executives, revealed that an impressive 85% of companies worldwide have expedited their journey toward digital transformation. Of these, a significant 67% have emphasized automation and artificial intelligence.
The real estate sector, too, has embraced the winds of change. Developers are making substantial investments in technology across various facets of their operations, and these investments are yielding promising outcomes. 
Let's explore the key areas where automating Real Estate with AI is making a substantial impact.
Construction
In a recent conversation with BusinessLine, Mr. Andrew Anagnost, President and CEO of Autodesk, shed light on the automation wave sweeping through the construction sector. Developers now gain deeper insights into the construction process thanks to breakthroughs in Building Information Modeling (BIM), Artificial Intelligence (AI), drone technology, and 3D printing. These insights enable them to enhance construction timelines, thus accelerating project delivery.
Marketing Automation
In the current dynamic and digital real estate industry, efficiently communicating with clients is challenging. Tools for marketing automation have surfaced as a response to this problem. 
Using these technologies, one can produce visually appealing landing pages, automatically gather leads, recognize sales signals from potential customers, provide tailored content, and start cold lead re-engagement campaigns. They facilitate smooth communication between several platforms, guaranteeing an organized and efficient approach.
Among the sales indications that marketing automation solutions pick up are:
Email opens

Website visits

Inbound calls

Outbound calls
These activities help marketers gauge lead engagement and trigger drip campaigns to guide leads further down the sales funnel. Further enabling more precise targeting and a greater return on investment (ROI) is retargeting on sites like Facebook and Google, made possible by marketing automation solutions.
Real-time Reporting & Decision Making
Reporting is a cornerstone of real estate operations, providing insights into agent performance, channel effectiveness, absorption rates, etc. Traditionally, Excel and Google Sheets were used for reporting, but manual data management raised the risk of errors and discrepancies between operations and perceived results.
To overcome these limitations, developers are embracing automated reporting solutions. Customer Relationship Management (CRM) software integrates with IVRs, mobility solutions, inventory modules, and more, centralizing data management. 
Managers and decision-makers can access reports on lead source performance, agent productivity, revenue generation, custom metrics, and real-time data. Scheduled automated accounts provide a comprehensive overview of real estate operations.
Sales Automation
Automation has changed real estate sales. Automating Real Estate with AI has been used by many real estate agents to boost sales and have experienced impressive results.
Automated lead capture solutions ensure a leak-proof pipeline and more revenue. With these solutions, you may trace lead sources and evaluate each lead creation method.
Automation also affects lead allocation in sales. This allocation procedure was manual and used Excel sheets, which led to errors and missed leads. Developers used automated lead distribution to fix this. Real Estate CRM can segment and assign agent leads based on area, property type, income, age, amenities, and agent availability. This lead segmentation lets agents specializing in specific property categories interact with leads interested in particular properties.
Real estate developers previously got leads from social media, organic sources, channel partners, and offline channels. Team members manually collected tips from these sources, which was prone to error and lost chances. This manual lead management system reduced the efficiency and needed to be more accurate. 
Automation allows the real estate industry to reduce costs, keep a managed sales data record, and enhance productivity by reducing repetitive tasks. 
Financial Operations 
Robotic Process Automation (RPA) is making waves in automating Real Estate with AI for 70-80% of repetitive tasks. Finance-related operations, in particular, benefit from RPA, automating bank and account reconciliations, invoice generation, and e-KYC processes and improving compliance while reducing fraud risks. Machine learning tools and Optical Character Recognition (OCR) assist in forecasting loan defaults and enhancing investor analytics.
Inventory Management
Proper inventory management is crucial to the real estate business. Recently, remarkable things have happened. Fourth-quarter 2020 property debuts increased 112% from the prior quarter. This year, developers are adding inventory to capitalize on buyer optimism.
While sales and new property offerings are up, a supply-demand mismatch remains. With this gap, smart inventory management is needed, and technology may help.
Today's once-standard manual inventory management (IM) procedures hurt the dynamic real estate sector. Find real-time inventory dynamics insights in Inventory Management (IM) modules. This module streamlines asset management and cuts expenses, optimizing resource allocation.
AI and ML (Machine learning) have accelerated the change. Anticipatory analytics lets developers adjust inventory flow and unlock KPIs that boost property absorption. These technologies guide future initiatives and demand planning.
Thus, unique IM modules and cutting-edge AI/ML tools provide a roadmap for real estate inventory management in an ever-changing market, boosting efficiency and responsiveness.
Tenant Onboarding and Management
Tenant onboarding and management represent another facet of the real estate industry ripe for automation. Realtors and property managers can significantly enhance tenant onboarding efficiency through:
Streamlining the new tenant application process

Harnessing technology for comprehensive background checks

Verifying tenant income and employment details

Managing swift approvals or disapprovals of tenant applications
You can establish an automated rent collection process by utilizing tenant management platforms. This encompasses sending timely reminders and providing a convenient payment link for existing tenants. Additionally, you have the flexibility to configure escalation procedures in the event of incomplete payments. This seamless approach simplifies the management of multiple tenants across diverse properties and geographic locations, making it more accessible and efficient than ever before.
Predictive Analytics
AI-driven predictive analytics helps determine the best time to buy or sell, the best location, a competitive listing price, and real estate market insights.
Predictive analytics technologies can predict property values and other information by analyzing patterns and market trends. This predictive power helps real estate professionals stay ahead.
Predictive analytics goes beyond property markets. 
Netflix offers personalized suggestions based on your viewing history. Workplace behavior analytics caused this. These metrics illuminate the consumer's journey in real estate. This thorough understanding helps real estate businesses and builders personalize and improve consumer experiences.
Digitization in real estate is still growing but slower than in other sectors. As they permeate the market, customers can expect their real estate journeys to be as informed and controlled as their other digital lives. AI and predictive analytics promise more smart, efficient, and consumer-centric real estate experiences.
AI-powered Chatbots
Real estate businesses, brokers, and property managers can connect with clients via AI-powered chatbots. Artificial intelligence-powered chatbots improve customer service and communication.
Smart AI bots powered by breakthrough AI technology and software respond instantly to inquiries, saving time and improving customer satisfaction. These AI solutions let brokers react quickly to customer inquiries.
AI-powered chatbots provide 24/7 real estate service to potential purchasers.
Chatbots free up agents' time by answering frequently requested queries and scheduling property viewings. Using real estate AI technologies and software has transformed real estate transactions, making them more efficient and streamlined.
Property Search and Recommendation
Homebuyers have been able to search by location, price, square footage, and bedrooms for a time. These possibilities have existed since property listings went online. Relying only on these metrics can overwhelm homeowners with too many selections or exclude properties that could be a good fit despite not satisfying all the criteria.
AI revolutionizes house search. AI can better grasp preferences by examining search patterns. This process is less frustrating, thanks to machine learning and AI.
Let's take the example of Zillow. It mixes a homebuyer's search data with similar buyers' tastes. Zillow creates a customized list of properties based on the prospect's needs. It's like Amazon suggesting books based on a customer's previous choices, making home buying more personalized and efficient.
The Future of AI in Real Estate
Robotics, machine learning, deep learning, massive data, and complex algorithms have transformed real estate and artificial intelligence (AI). These innovations have overhauled real estate.
The fascinating real-world examples of AI applications in real estate show the radical influence of this technology. AI has improved decision-making, workflow automation, data visualization, and property estimates across the industry. AI has great promise in real estate, causing a paradigm change that continues today.
In the future, AI in real estate will revolutionize even further. AI will inevitably change the real estate industry. AI is progressing toward becoming the game-changing technology firms need to transform their property management procedures. The future of AI in real estate is full of innovation and boundless potential, and it has just started.

Endnote
A PwC analysis estimates that AI and automation might add around $15.7 trillion to the global economy between 2017 and 2030. This forecast shows how automation will transform sectors worldwide.
Current-day automation permeates many aspects of our existence. Forward-thinking real estate organizations are building a robust digital infrastructure to reduce the pandemic's effect and prepare for future risks. Real estate developers must emphasize adaptation and sustainability in their operational plans for 2024.
If you're interested in automating your real estate business and want someone on your side, then advansappz will be your partner in success.
We at advansappz understand the impact of automation in businesses, especially in the real estate business, and we are here to offer customized solutions for businesses like yours. 
Let us transform Real Estate with AI.