Cloud computing is a dynamic phenomenon. Over the years, it has drastically changed the way people conduct business. In this blog, we have compiled a list of the most relevant cloud computing statistics to help you understand the swiftly changing business landscape. So, keep your finger on the pulse of this rapidly growing industry with our expert analysis and insights.
Before we get into the stats, let us understand more about cloud computing.
What is Cloud Computing?
Cloud computing is the process of handling, storing, and processing data on a network of remote computers instead of a local server or personal computer. In 2023, every company will require cloud computing due to the quick technological advancements. From small-scale to large-scale organizations, everyone is leveraging the benefits of cloud computing to boost their operations and efficiency.

Why cloud computing is required?
It provides a scalable environment that allows businesses to adjust their computing resources as needed without investing in additional hardware.
By eliminating the need to manage IT infrastructure, cloud computing reduces costs and saves time.
It provides a flexible working atmosphere that enables staff members to work remotely and access applications and data from any location using any device.
When is cloud computing used?
Cloud computing is used in various contexts to deliver computing resources over the internet. The fundamental idea behind cloud computing is to provide on-demand access to computing resources like servers, storage, databases, software, and networking without the user needing to own or manage these resources. This model offers several benefits, such as cost savings, scalability, flexibility, and convenience.
Where is cloud computing used?
Businesses of all sizes use cloud computing to host websites, operate applications, store and analyze data, and collaborate on projects. Cloud consulting businesses provide various services, including Infrastructure as a Service (IaaS), Platform as a Service (PaaS), and Software as a Service. (SaaS). Servers, storage, and networking are among the virtualized computing resources that IaaS offers users, whereas PaaS provides a framework for creating and deploying apps. Users can obtain software applications through SaaS via the internet.
Cloud solutions have three types
Infrastructure as a Service (IaaS): Users can access virtualized processing resources like servers, storage, and networking thanks to IaaS. Users can scale up or down as necessary and pay for these services on a pay-as-you-go basis. Users can install and customize operating systems, applications, and other software with IaaS because it gives them more power over the underlying infrastructure.
Platform as a Service (PaaS): Applications can be created, tested, and deployed using the PaaS framework. This can include the middleware, databases, and other components required to operate the applications and the tools and frameworks for creating new applications. Users don't have to think about managing the underlying infrastructure when using PaaS, allowing them to concentrate on developing their applications.
Software as a Service (SaaS): SaaS provides users access to software applications over the internet. This can include everything from email and collaboration tools to customer relationship management (CRM) and enterprise resource planning (ERP) software. With SaaS, users don't have to worry about installing or maintaining software on their systems, as the provider hosts and manage everything.

Cloud Computing Statistics 2023
Moving forward, we will discuss cloud computing statistics that you should know in 2023. These statistics are based on reliable sources and surveys conducted by renowned organizations.
How do services for cloud computing impact the market?
The global cloud computing market is expected to reach $1 trillion by 2024.
In 2023, the public cloud market will reach $332.3 billion worldwide.
The global cloud computing industry is expected to grow at a CAGR of 17.5% between 2021 and 2026. (Mordor Intelligence)
The healthcare industry is expected to spend $14.1 billion on cloud services by 2024. (MarketsandMarkets)
The financial services industry is expected to spend $80 billion on cloud services by 2024. ( MarketsandMarkets)
67% of enterprise infrastructure will be cloud-based by the end of 2023. (IDC)
By 2023, the SaaS market is expected to grow to $132.57 billion. ( Statista)
The PaaS market is predicted to grow to $56.05 billion by 2023. (Statista)
The IaaS market is expected to reach $96.4 billion by 2023. (Statista)
94% of businesses report improved security after adopting cloud services. (RapidScale)
Cloud Adoption Statistics: Cloud computing business


94% of enterprises already use cloud services. (Flexera)


67% of enterprises are using a hybrid cloud approach. (RightScale)
53% of businesses have optimized their cloud strategy to improve IT operations. (LogicMonitor)
83% of business workloads will be in the cloud by 2023. (LogicMonitor)
90% of IT decision-makers say that cloud computing has helped them reinvest resources. (LogicMonitor)
59% of enterprises expect to increase their cloud spending in 2023. (Flexera)
By 2023, 75% of large enterprises will deploy a multi-cloud or hybrid cloud model. (Gartner)
80% of companies with over 1,000 employees have a multi-cloud strategy. (RightScale)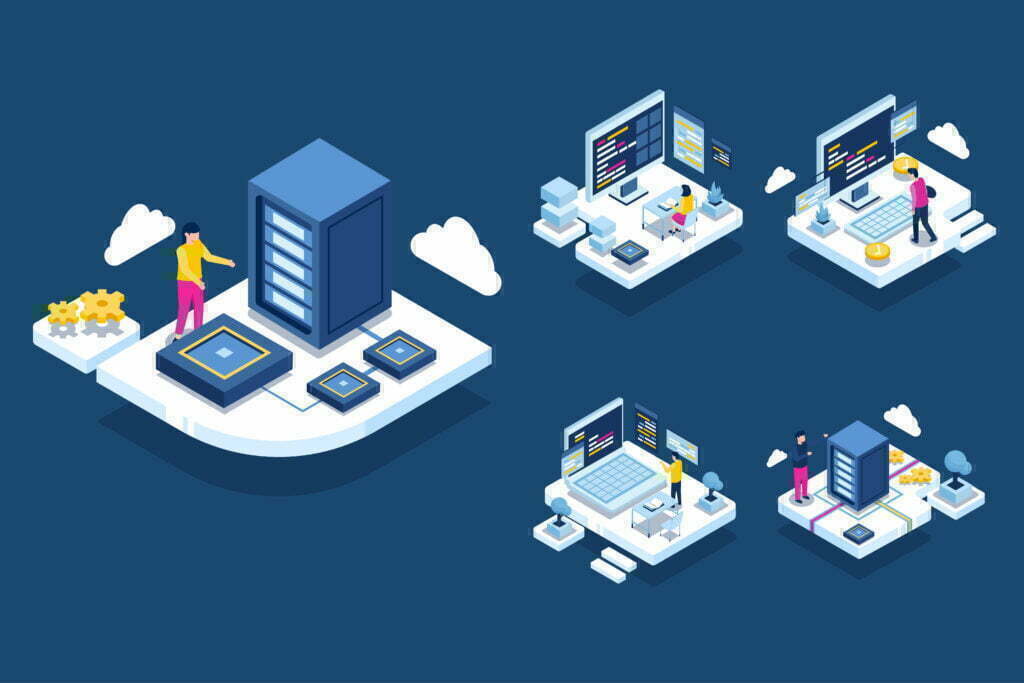 How does cloud computing benefit a business?
Cost Savings
By using cloud-based services, businesses can save money on hardware, maintenance, and upgrades. According to a study by Forbes, companies that adopt cloud computing can reduce their IT costs by 30% to 50%.
Improved Collaboration
Cloud computing can also improve collaboration between employees and teams. Employees can access data from anywhere on any device by storing data and applications in the cloud. This makes it easier for teams to work together and share information. A survey by Frost & Sullivan found that 82% of respondents reported improved collaboration after adopting cloud-based services.
Increased Flexibility
Cloud-based services, businesses can quickly scale up or down as needed without additional hardware or infrastructure. According to a survey by IBM, 60% of respondents cited the flexibility of cloud computing as a critical benefit.
Enhanced Security
While security concerns may be a barrier to adopting cloud solutions, the reality is that cloud-based services can enhance security. Cloud providers often have more resources and expertise to dedicate to security than individual businesses. According to a study by LogicMonitor, 83% of IT leaders said that their cloud provider offers better protection than they could provide in-house.
Closing lines
We hope you find these cloud computing statistics and trends insightful. It is impossible to overstate the significance of the cloud, and cloud technologies of all shapes and sizes will only grow in scope and importance over time. advansappz is a leading It consulting company in the US that offers top-notch cloud computing solutions to businesses. So book your consultation today and take your business to new heights.
Frequently Asked Questions