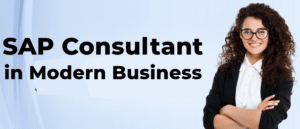 SAP (Systems, Applications, and Products) Consultants play a crucial role in driving modern business transformations. Businesses worldwide continue to invest in SAP because of the many benefits it can bring to their organizations. SAP offers many products and services to help businesses build a comprehensive and unified digital infrastructure. SAP ERP provides functions to help businesses streamline operational business processes, reduce costs, and increase profitability. SAP is also a secure and integrated platform for businesses to develop and deploy applications. 
SAP Consultants are highly skilled professionals equipped with in-depth knowledge of SAP solutions. They take on the responsibility of analyzing business processes and identifying areas for improvement and transformation. SAP Consultants collaborate closely with businesses to understand their unique requirements and challenges. 
By aligning SAP solutions with these specific needs, they ensure a seamless integration that maximizes the benefits for the organization. This article will explore SAP Consultants' significance and impact on shaping businesses for success in today's dynamic market.
What does a SAP Consultant do?
SAP consultants provide support, training, and guidance for projects and initiatives involving SAP (Systems Applications and Products) software programs and systems. They generally offer these services as a freelancer or independent contractor. They may be enlisted to assist with planning, developing, implementing, or maintaining a particular system or program. They analyze organizational needs, pinpoint primary objectives or challenges, and recommend SAP-based solutions. They also provide troubleshooting and tech support services and may create user guides or other support materials and documentation.

SAP consultants must have extensive hands-on experience with SAP systems and programs. These roles require excellent analytical skills, attention to detail, and good project management capabilities. Proficiency in programming languages is an advantage.
SAP Modules and Their Applications
SAP S/4HANA
SAP S/4HANA is a flagship product offering cutting-edge enterprise resource planning capabilities. It enables businesses to make data-driven decisions and respond swiftly to changing market demands.
SAP CRM
SAP CRM focuses on customer relationship management, helping businesses provide exceptional customer experiences and build lasting relationships.
SAP SCM
SAP SCM (Supply Chain Management) optimizes supply chain processes, enabling businesses to deliver products and services efficiently while minimizing costs.

How to Choose the Right SAP Consulting Firm?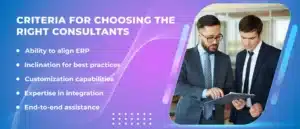 Choosing the right SAP consulting firm is an important decision that can have a long-term impact on the success of your business. SAP has many modules and solutions. A single consultant or consulting firm can only be competent in some SAP modules. For this reason, businesses should first determine which modules they need consultancy in.
Firstly, identify and meet with SAP consulting firms with the qualifications and experience to carry out your project. During the meetings, you need to explain your company culture, work organization, needs, and business goals to the candidate companies. 
In addition, you should analyze the candidate company's expertise, experience, and reference projects. Also, you need to consider the costs of SAP consulting services. You should focus on finding a firm that offers competitive prices, is specialized, and is willing to work within your budget.
SAP Consulting Services in SAP Implementations
Planning and Analysis
SAP Consultants begin by meticulously planning and analyzing the organization's existing processes. This step helps identify gaps and opportunities for improvement.
Configuration and Customization
SAP Consultants configure and customize the SAP solution to meet the organization's specific needs. This tailored approach ensures the solution aligns perfectly with the business's goals.
Change Management
SAP implementations often involve significant changes in processes and workflows. SAP Consultants are critical in managing this transformation by addressing resistance to change and promoting adoption.
Data Migration and Integration:
Migrating data from legacy systems to SAP and ensuring seamless integration with existing platforms can be complex. SAP Consultants navigate these challenges with expertise and precision.
Data Visualization and Reporting
SAP Consultants utilize data visualization techniques to present complex information in an easily understandable manner, aiding decision-making processes. SAP Consultant defines and measures KPIs to evaluate the success of SAP implementations and ensure continuous improvement.
The Advantages of SAP Consultants in Business Transformations
Streamlining Business Processes

– One of the primary roles of

SAP Consultants

is to streamline business processes by configuring and customizing SAP solutions. This optimization improves efficiency and productivity, enabling organizations to stay ahead of the competition.

Enhancing Efficiency and Productivity

– With SAP Consultants' expertise, businesses can enhance

efficiency and productivity through automation, streamlined workflows, and real-time data access.
Training End-Users

– SAP Consultants provide comprehensive training to end-users, empowering them to navigate and utilize the new SAP system effectively.

Post-Implementation Support

– Even after the SAP implementation, SAP Consultants continue to offer support and guidance to address any issues that may arise.

Integrating Cloud Solutions

– SAP Consultant help businesses embrace the cloud, facilitating seamless integration with cloud-based solutions and services.

Implementing IoT and AI in SAP

– With the rise of the Internet of Things (IoT) and Artificial Intelligence (AI), SAP Consultants guide organizations in incorporating these intelligent technologies into their SAP systems.

Expertise and Knowledge

– SAP Consultants possess specialized knowledge and experience that brings immense value to the implementation process.

Cost and Time Savings

– By optimizing the implementation process and avoiding potential pitfalls, SAP Consultants save organizations time and resources.
Final Words
The expertise and guidance of SAP Consultant plays an integral role in modern business transformations. These professionals enable organizations to thrive in a dynamic and competitive market by streamlining processes, enhancing efficiency, and leveraging SAP solutions. The journey of business transformation is ongoing, and SAP Consultants play a pivotal role in identifying areas for improvement and growth.
The expertise and innovative solutions offered by advansappz contribute significantly to streamlined operations and enhanced efficiency. A deep understanding of SAP systems enables businesses to adapt to evolving market trends and remain competitive. Our consultants bridge the gap between technology and business needs, facilitating growth and success in the modern business landscape. Their invaluable contributions make them essential partners in achieving sustainable business excellence.
Frequently Asked Questions