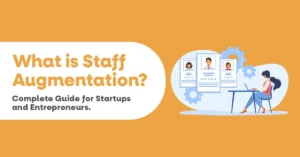 The business world you operate in is a fast-paced one with intense competition. You need a game-changing approach to stay ahead of the competition and create waves with innovative items. Staff augmentation fills that need. This method is revolutionary rather than merely trendy, particularly in the context of IT staff augmentation services.
We will simplify the technical terms for you in this blog post. We'll look at how hiring more employees may propel your company's growth, accelerate the creation of new products, and lead to unparalleled success.

What Exactly Is Staff Augmentation?
Let's begin with the fundamentals. Staff augmentation is a clever tactic that enables businesses to supplement their team with outside knowledge. To access highly trained professionals for specific projects or temporarily, firms work with staff augmentation providers as an alternative to hiring full-time personnel.
Staff augmentation delivers specialized knowledge that your in-house team might need help with, meets essential project deadlines, and addresses talent gaps. It's a versatile answer for the contemporary business environment.

The Benefits of Staff Augmentation
The US IT staffing market was valued at USD 32.50 billion in 2021 and is expected to grow to USD 43.68 billion by 2027, growing at a CAGR of 5.05% during the forecasted period. Here are some of the major benefits of why companies choose staffing services.
In times of crisis, having access to a larger pool of

skilled IT professionals

for a limited time might be invaluable. A proven history of fulfilling deadlines is crucial in the software product development industry.

In today's fast-evolving technology landscape, skill mismatches are widespread. Finding and hiring people with the precise combination of talents you need to accomplish the project may be possible through team augmentation. If you follow this procedure, you may believe in your team's ability to tackle complex problems and find original solutions.

What sets IT staff augmentation apart from other

HR strategies

is its adaptability. Organizations can respond to changes in demand by increasing or decreasing their permanent and contract specialist staff. Having more leeway in how they respond to regulatory changes is beneficial for firms.

Working with experts who have honed their abilities is beneficial because of mutual learning. The fresh perspectives, specialized understanding, and project experience they bring are invaluable. The more you can share what you know with others, the better off you and your business will be.

By reducing the requirement for permanent employees, staff augmentation helps businesses save money. Instead of using traditional hiring methods, you can save money by paying workers for the time and effort they put into a project. By using this strategy, businesses can save money on administration, employee incentives, and recruitment advertising.
IT Staff Augmentation – The Engine of Technological Advancement
The Latest Trends in IT Staff Augmentation
IT staff augmentation is constantly changing to accommodate new technologies. Some current tendencies are as follows:
As technology becomes more sophisticated, organizations seek IT staff augmentation services to supply experts in niche areas like cybersecurity, blockchain, data science, and machine learning.

IT staff augmentation services have responded to the growing demand for remote workers by expanding their remote staffing alternatives in the wake of the COVID-19 epidemic. This opens the door for companies to recruit from all over the world.

Instead of hiring people full-time, more companies are opting for project-based staffing options. This method is more cost-effective since it maximizes the use of available resources.

Managed services are rising because they provide end-to-end IT solutions, from maintenance and support to strategy and planning. As a result, the augmentation of IT workers aligns with the company's overall aims.

Besides technical expertise, companies want IT staff augmentation services that equip employees with soft skills like effective communication, teamwork, and problem resolution. These abilities are necessary for every team to function correctly.
How AI and Automation Are Transforming IT Staff Augmentation
Automation and artificial intelligence (AI) are revolutionizing IT staff augmentation.
AI and automation perform mundane duties, allowing IT augmentation teams to work on higher-level, more strategic projects. This means greater effectiveness and output.

Some IT staff augmentation services may become less in demand as

artificial intelligence

(AI) and automation (automation) continue to improve. For instance, chatbots can replace human customer service representatives by providing automated support.

A rise in demand for workers in fields like artificial intelligence (AI) development, machine learning, and data analysis is inevitable as automation expands. Staff augmentation services in IT need to change to meet the need for experts in these fields.

Thanks to advancements in AI and automation, IT staff augmentation teams can now provide their clients with more precise and high-quality results.

Hybrid teams, which integrate AI with human staff augmentation services, may become increasingly necessary as the use of AI and automation increases in the commercial world. To accomplish this, you'll need technical and soft talents and the know-how to work in tandem with AI.
The Impact of Remote Work on IT Staff Augmentation
Embracing the Remote Work Era
IT staff augmentation services are all different due to the growing popularity of remote work. Observing how remote employment is altering the landscape
Worldwide Talent: Employers may access a larger pool of qualified candidates and more specialized abilities by allowing remote workers to work from anywhere in the world.
Savings on Expenses: Working remotely relieves the need for office space, equipment, and in-person staffing-related expenditures.
Flexibility in the Workplace: Remote employment promotes work-life balance and flexible scheduling for organizations and IT staff augmentation teams.
Collaboration and Communication Solutions: To ensure smooth communication between internal staff and IT staff augmentation teams, companies using remote work must use collaboration and communication solutions.
Demand for Strong Soft Skills: The rise in remote work has created a demand for IT staff augmentation services that give employees the solid interpersonal, teamwork, and problem-solving abilities they need to collaborate with internal teams.
Implementing remote work poses management issues for firms, as they must guarantee that their teams augmenting IT staff are operating efficiently and fulfilling project deadlines.
The Essential Role of Soft Skills in IT Staff Augmentation
Why Soft Skills Matter?
Both hard and soft skills are crucial for augmented IT workers.

Successful IT staff augmentation services require excellent verbal and written communication skills. The success of a staff augmentation project relies on the augmentation team's ability to communicate with and understand the needs of the in-house team working on the project.

Robust and soft teamwork and connection-building skills are essential for IT staff augmentation services success.

The soft qualities of flexibility and adaptability are crucial in IT staff augmentation roles. Teams need to be able to shift gears quickly in response to new information.

Problem-Solving Skills Project teams offering IT staff augmentation services must be experts in finding and fixing issues through innovative and analytical problem-solving.

The effectiveness of IT staff augmentation services hinges on the teams' capacity for efficient time management and setting of priorities.
The Future of IT Staff Augmentation
What the Future Holds?
There will soon be new opportunities for outsourcing IT specialists. Let's take a peek into the future.
As the IT sector grows to serve a broader range of industries, businesses will need supplemental people with knowledge in creating technology.

Employers will place a greater emphasis in the future on "soft skills" such as effective communication, teamwork, and problem-solving. Soft skill development should be a top priority for service industry employers.

The IT staff augmentation services trend is increasing toward mechanizing processes like hiring and task management.

Businesses increasingly consider remote employment solutions to attract and retain the most talented employees.

Due to the growing number and sophistication of cyber attacks, IT staff augmentation services specializing in cybersecurity are in great demand.
Choosing Your IT Staff Augmentation Partner
Making the Right Choice
It's critical to find a dependable IT staff augmentation partner. Remember these things:
If you need help with

software development

, cybersecurity, or project management, look for a business that specializes in that area. To succeed in the future, one must have a high level of knowledge-based competency.

Reputation Track down the company's origin story. You may check their track record of providing excellent service and their expertise by reading online reviews and asking for referrals.

If you want the best personnel, you must be selective while employing them. It needs to assess more than only technical knowledge but also one's social and collaborative skills.

Pick a service that can adjust its methods to fit your requirements, whether those requirements are a sudden surge of talent or a change in the project's parameters.

Excellent communication and listening skills are required. As the project progresses, the service provider should keep you updated and be ready to answer any questions that may come up.

While price should certainly play a role, it shouldn't be the deciding factor. Think about your place in the world and your legacy.

Cooperating with a provider whose values are similar to your own will yield the finest results. They need to make sure the people they provide you are compatible with your existing team.



Conclusion
Team augmentation is a game-changing tactic in a world where creativity and adaptability are essential for success. Businesses can realize their full potential by accepting outside expertise, utilizing automation, and appreciating the importance of both technical and soft abilities.
Future IT staff augmentation initiatives should see an increase in remote work, a continuous emphasis on soft skills, and more specialized talents. Selecting the ideal partner like advansappz- the one that shares your values and meets your needs—is essential to maximizing the benefits of staff augmentation.
This strategic strategy aims to unlock innovation, achieve new heights, and maintain competitiveness in a dynamic business environment—rather than merely plugging holes. IT staff augmentation is the secret to seizing all prospects for success in this vast universe. Accept change, adjust, and allow staff augmentation to take your company to new heights.