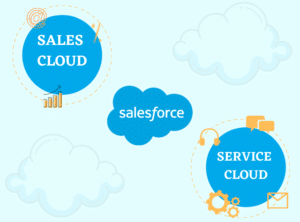 Salesforce is a new king of automation, customer support, and business growth. Salesforce has transformed the way businesses operate and offered huge success. Thus, Salesforce has developed several products to facilitate the development of particular areas of businesses; the most popular products among all are Sales Cloud and Service Cloud. 
Although these are the products of Salesforce, there is a huge difference between them, and many people need to understand its core benefits. So, it's essential to understand the difference between these two products to decide which to choose and how to improve a particular business area regarding customer support, business operation, and client management. 
It has been seen that Salesforce could generate $5.19 billion per year in fees with its Sales Cloud product and $5.38 billion from Service Cloud. 
It has been used widely for businesses that desire quick growth and seamless business operation. If you also want to enjoy the unlimited benefits of Salesforce but are confused about which to choose between service and sales cloud, this blog is for you.
Let's discuss the difference between Salesforce Sales Cloud and Salesforce Service Cloud so you can derive choice conclusions.
Understanding the Basic
Let's start by understanding the basics and definition of sales cloud and service cloud. This will help you understand the differences more accurately and efficiently.
What is Sales Cloud?
Sales Cloud is one of the products of Salesforce that streamlines, controls, and evaluates sales procedures. It suits sales managers and representatives, allowing them to prioritize tasks efficiently. The performance of the entire sales department can be improved if sales managers create a sales strategy and use performance data to track sales representatives.
The streamlined customer communication across various channels, such as social media and email, gathered inside Sales Cloud AI benefits sales reps.
By managing pricing information, customer records, and contract drafting, large-scale automation capabilities give sales reps more time to devote to lead nurturing and closing deals. For a better understanding of customer needs, progressive implementation gathers various contact and account information.
What is Service Cloud?
Embracing Salesforce's Service Cloud has proven to be a game-changer for users in delivering swift and effective customer service, resulting in enhanced customer retention. Service Cloud seamlessly incorporates different customer communication channels to expedite customer support.
Its user interface simplifies cross-channel communication, streamlines knowledge base management, and automates various customer service processes. A comprehensive knowledge base not only reduces response times but also accelerates the onboarding of new service agents.
Service Cloud empowers organizations to efficiently oversee and administer customer service operations, whether utilizing the user interface or not. This flexibility offers control over the performance of customer service representatives and aids in pinpointing areas for staff development and training.
Difference between Salesforce Cloud and Service Cloud
When comparing Service Cloud and Sales Cloud, it is essential to remember that both are Salesforce's flagship offerings, aiming to streamline sales and customer service for businesses. However, being a part of Salesforce, these two products differ in many ways. Understanding these differences helps you choose the right cloud for your business. 
Below is a detailed comparison between them:
Features of Sales Cloud for Boosting Sales Efficiency
Account & Contact Management
Sales Cloud simplifies the management of customer interactions, business contacts, and account discussions, offering a comprehensive approach to customer relationship management.
Leads Management
Harness the power of Sales Cloud to closely monitor potential leads, nurturing them through targeted campaigns to boost sales and attract a more focused customer base.
Reports & Dashboards
Sales Cloud provides robust tools for generating insightful business reports and tracking progress, enabling a thorough analysis of strengths and weaknesses. Access reports and business dashboards effortlessly, anytime and anywhere.
File Syncing and Sharing
With Sales Cloud, file syncing and sharing become effortless and secure. Quickly locate and store important documents and share them with colleagues without hassle.
Workflow Approvals
The visual workflow capabilities within Sales Cloud streamline business planning with minimal effort. These workflows include validation steps for authorizing discounts, sales, expenses, and other crucial operations.
Mobile Optimization
Transform your mobile devices into portable business management hubs using Salesforce Sales Cloud. Log calls, manage leads, access dashboards, review reports, and seize work opportunities, all from the convenience of your mobile device.
Features of Service Cloud for Elevating Customer Support
Seamless Customer Service
Service Cloud simplifies customer support by centralizing it on a single platform, including social media channels—no more redirecting customers to different sites.
Efficient Service Console
Our professional service console streamlines case management, ensuring tasks are organized for maximum customer benefit.
Live Chat Support
Salesforce Service Cloud offers live chat assistants for real-time online customer assistance. Get help with products and services directly from our brand experts.
Email Automation with Email to Case
Automate your email responses with Email to Case—Configure auto-response rules based on record attributes, ensuring timely customer communication.
Comprehensive Knowledge Base
Service Cloud helps build an extensive knowledge base that empowers agents. Find answers quickly and resolve cases faster, resulting in superior issue resolution.
Quick Table of Comparison – Salesforce Sales Cloud Vs Service Cloud
Parameters
Salesforce Sales Cloud
Salesforce Service Cloud

Primary Functionality

Sales automation, management, and sales analysis

Customer service and support

Key Features

Lead and opportunity management

Sales forecasting & Collaboration

Email integration

Mobile accessibility

Contact and Account management

Case management

Customer self-service Knowledge management

Service Process automation

Customer lifecycle management

Targeted Users

Sales representatives and Managers

Customer service representatives and managers

Customer Interaction

Focuses on Lead generation and lead closure

Majorly focuses on resolving customer issues

Performance Metrics

Limited

Robust

Key Benefits

Pipeline conversion rates

Sales forecasting accuracy

Improves sales productivity, streamlines processes

First call resolution rate

Customer satisfaction score

Enhances customer experience and retention

Add-ons

Knowledge Base, Service Cloud Portal

Live Agent, Einstein Bots (Chatbots), Live Messaging

Starting Price

$25/user/month

$25/user/month

Average Customer Rating

4.5 (GetApp.com, Capterra, and TrustRadius)

4.7 (GetApp.com, Capterra, and TrustRadius)

Usage Numbers

3000+ companies in the USA

5000+ companies in the USA
Sales Cloud vs. Service Cloud: What Sets Them Apart?
When entering the world of lead generation and conversion into profitable business opportunities, you utilize Sales Cloud. It is your central location for starting campaigns, seeking new opportunities, and managing ongoing ones. Beyond this, Sales Cloud gives you the tools to predict market trends accurately. In addition to fostering customer relationships, it paves the way for your company's growth.
On the other hand, during the post-sales phase, Service Cloud commands attention. Rapid customer issue resolution is its main priority. Implementing Service Cloud successfully improves the general customer experience. You can optimize workflows and automate many service-related procedures thanks to it. Furthermore, it offers your customer service representatives priceless hands-on support.
At their core, both Sales Cloud and Service Cloud seek to develop individualized relationships with each customer across various channels.
Furthermore, Service Cloud places a high priority on protecting sensitive data on its cloud platform. Additionally, it offers strong tracking and reporting features that help locate any flaws in your company's operations. Your ability to address and resolve problems due to these insights will ultimately improve your overall sales performance.
SalesForce vs. Service Cloud: Licensing
Sales Cloud and Service Cloud have separate licensing options; additional fees apply if you incorporate add-ons. Consider add-ons for both licenses, which are pivotal in optimizing your CRM-driven workflows.
Each Salesforce Service Cloud vs. Sales Cloud license offers various options, differing in functionality, features, user count, and license costs.
Salesforce Sales Cloud Licensing Options
It's like comparing different characters in a similar story when comparing Salesforce Sales Cloud vs. Service Cloud licensing options. Sales Cloud provides two primary licenses, Sales Cloud Professional and Sales Cloud Enterprise, along with a standard Essential Edition.
Sales Cloud Essential: $25 per user per month
This cost-effective license is designed for small teams and offers basic sales management features.
Sales Cloud Professional: $75 per user per month
A fundamental license that includes standard sales force automation features like lead management, opportunity management, and forecasting.
Sales Cloud Enterprise: $150 per user per month
This license level goes beyond the basics, providing advanced sales automation tools and the standard features in the Professional license.
Salesforce Service Cloud Licensing Options
Salesforce presents a bundled license option that combines both Sales Cloud and Service Cloud into one comprehensive package known as the Sales and Service Cloud license. This license option offers a holistic solution for organizations managing sales and customer service operations.
It's the ideal choice for businesses seeking an all-encompassing approach to customer lifecycle management, from lead generation to customer retention. The Sales and Service Cloud bundle license provides a cost-effective solution for maximizing sales and service capabilities on the Salesforce platform.
Essential: $25 per user per month
A budget-friendly license option delivering basic Service and customer management features for customer support teams.
Professional: $100 per user per month
This basic license includes standard customer service features like case management, knowledge management, and omnichannel routing.
Enterprise: $175 per user per month
Offering advanced features like AI-powered case management, advanced analytics, and seamless integration with external systems.
In addition to the mentioned editions, there's also the Sale and Service Cloud Bundled Unlimited Edition. The only distinction here is the price, which is $325 per user per month. This edition boasts Unlimited Salesforce support, a Resources portal, and limitless online training.
Case Study: Transforming Customer Support for CoreHR with Service Cloud
Overview
CoreHR, faced with efficiently supporting its growing customer base, sought to enhance its customer service operations. With an increasing caseload and limited resources to address inquiries promptly, they were determined to streamline their processes. The primary objectives were to improve case management and deflect inquiries, all while empowering customers to find answers independently through self-service solutions.
Challenges
CoreHR identified several key challenges:
Managing a substantial caseload efficiently.

Reducing the volume of incoming inquiries.

Empower customers to self-serve by accessing relevant articles and notifications before raising support cases.
The Solution & Results
To meet CoreHR's needs, a multi-cloud solution was implemented, harnessing the capabilities of Community Cloud for the front end and Service Cloud for the back end.
Seamless Digital Experience:

CoreHR required a digital experience that seamlessly aligned with their company's branding. Leveraging the potential of Service Cloud and Community Cloud, ABC, the chosen solution provider, crafted a cost-effective, self-service community platform.

Reduced Caseloads:

The implementation resulted in a noticeable reduction in caseloads for CoreHR's contact centers. The self-service community allowed customers to resolve their queries independently, relieving the burden on support agents.

Efficient Ticket Handling:

High-priority tickets were swiftly directed to the appropriate service agents, accelerating the resolution process for critical issues.

Measurable Success:

CoreHR can now generate reports to gauge the effectiveness of their knowledge base and suggested articles. They can easily track the number of cases deflected by these resources, demonstrating tangible improvements in customer support.
Outcome
Through their collaboration with ABC and the deployment of Salesforce's Service Cloud and Community Cloud, CoreHR has achieved remarkable results. They have significantly reduced case escalation, empowered customers to find answers autonomously, and enhanced their overall customer support operations. This transformation underscores the value of tailored digital solutions in modernizing customer service for growing enterprises.
Case Study: Streamlining Operations for TLC with Sales Cloud
Overview
TLC DigiTech, originally a marketing and strategy consultancy for global hospitality brands, has transitioned into a tech-focused company. Specializing in enhancing technological experiences within the hotel industry, TLC DigiTech now serves renowned clients, including Marriott International, The Leela, ITC Hotels, and IHCL, offering comprehensive digital solutions for customer acquisition and loyalty programs.
Challenges
TLC DigiTech sought a robust tech solution to construct an engagement platform, enabling clients to craft seamless digital customer journeys. The solution needed to integrate seamlessly into clients' existing tech ecosystems, provide real-time guest insights for personalized experiences, facilitate the development of tailored apps, and meet stringent international security and data governance standards.
Solution & Results
TLC DigiTech opted for a sales cloud as its integration platform to address these demands. Sales Cloud's adaptability across diverse environments and the reusability of APIs made it an ideal choice. This integration streamlined data flow between front-end and back-end systems, client tech stacks, POS systems, payment gateways, and one-time password solutions.
Utilizing Salesforce for efficient lead management:

TLC DigiTech consolidated leads from various marketing channels and assigned them to their contact center representatives. This automated process enhanced efficiency and customer satisfaction.

Recognizing the importance of intuitive mobile apps:

TLC DigiTech developed on-brand, secure, and user-friendly applications. These apps allowed customers to seamlessly discover and book hotel experiences and services while maintaining 24/7 accessibility.
Outcomes
TLC DigiTech's expertise in this realm has led to the establishing of an in-house team of over 10 Salesforce experts and dedicated teams specializing in Heroku and MuleSoft technologies. Clients have begun benefiting from insights into end-consumer journeys, enabling hotel brands to optimize consumer satisfaction in real-time.
TLC DigiTech continues to expand its collaborative ecosystem and explores Tableau for real-time analytics and insights. Additionally, the company has ventured into new areas like food delivery, leveraging multilingual app capabilities, and plans to enter markets in APAC and EMEA, marking their ongoing growth and innovation.
Sales Cloud vs Service Cloud: Which One is Right?
When deciding between Sales Cloud and Service Cloud, it's all about aligning with your organization's needs.
Sales Cloud shines for businesses with a sales-centric focus. On the other hand, Service Cloud is better suited for organizations placing consumers at the core of their operations.
However, consider the combined package if your organization thrives on both service and sales support and serves a shared customer base. For established businesses with matured service and sales departments, this Service + Sales bundle makes sense. It leverages the shared customer base, enhancing synergy between both divisions.
But, bear in mind that cost factors into this choice. The Service + Sales package costs $25 per user, significantly more than purchasing Service Cloud and Sales Cloud separately.
If your organization handles both customer service and sales functions, you might be tempted to opt for Service Cloud for both teams, as it encompasses all Sales Cloud features. However, it is recommended to be cautious here. Selecting Service Cloud for the sales team might be sensible only in specific use cases, as the Sales team may not require the additional add-ons and features offered by the Sales Cloud.
Ultimately, the right Salesforce cloud platform choice hinges on your unique business requirements. Conduct a thorough assessment to ensure you select the module that best suits your business needs.
When To Choose Sales Cloud Vs. Service Cloud?
The comparison becomes a useful tool when picking between Salesforce Sales Cloud and Service Cloud. The specific needs and goals of your company will largely determine your decision.
Sales Cloud:

If generating revenue through sales is your main goal, this is the strategy to use. It equips you with the tools to effectively manage your sales team, automate sales procedures, and gather insightful data about customer interactions.

Service Cloud:

As an alternative, Service Cloud can help with capabilities like case management, customer self-service portals, and knowledge bases if providing great customer care and support is your top concern. Your team can precisely meet client needs thanks to these technologies.

Combined Solution:

Despite being more expensive than buying Sales and Service Cloud separately, enterprises with needs for both sales and service may find the Sales+Service package interesting. For both divisions, this solution gives the benefit of uniform access to routine and standardized customer data.
The choice ultimately comes down to how well these potent Salesforce solutions match your firm's specific objectives and needs.

The Bottom Line
Salesforce Sales Cloud and Service Cloud are powerful CRM solutions for managing and tracking customer interactions and data throughout the customer journey. Service Cloud excels at customer support, while Sales Cloud manages sales processes.
Integrating these platforms allows for a customer-centric experience throughout the customer lifecycle. Salesforce offers industry-leading sales management and customer service regardless of size or model.
Align your cloud service choice with your needs before choosing. Using a Salesforce Certified Partner like advansappz's Sales Cloud, Service Cloud, and Salesforce Implementation Services can boost revenue and customer service.
Let us draft a custom solution for you!
Frequently Asked Questions:
What is the primary difference between a sales and service cloud?
The Salesforce Sales Cloud focuses on lead management, opportunity tracking, and sales forecasting. Salesforce Service Cloud management of customer questions and cases is its primary focus.
Who commonly uses Sales Cloud?
Sales teams use Salesforce Sales Cloud to manage leads, opportunities, and customer interactions. This adaptable tool supports startups and significant technology, healthcare, finance, and retail corporations. Customers can automate sales processes, manage leads and opportunities, anticipate sales, and track sales performance with Sales Cloud.
Who commonly uses Salesforce Service Cloud?
Customer service and support teams use the Salesforce Service Cloud to organize and track queries, cases, and interactions. It is used in retail, healthcare, finance, and technology. Service Cloud automates processes, manages queries, and provides performance data for customer service teams.
Which is best for my business: Sales Cloud or Service Cloud?
Business needs to determine the option. Sales-focused companies may select Salesforce Sales Cloud. Alternatively, Salesforce Service Cloud may be better for customer support. Both clouds can be utilized together to meet different needs.
Can Salesforce Sales Cloud and Salesforce Service Cloud be used together?
Salesforce Sales Cloud and Service Cloud may be seamlessly connected to provide a unique, customer-centric experience throughout the customer journey. The same customer information and history empower sales and customer service teams to collaborate and give better service.