The CEO of Google, Sundar Pichai, quotes, 'The incoming dominance of Artificial Intelligence would be much more revolutionary than the first electric bulb or the generation of fire.' A PWC report also suggests that by 2030, Artificial Intelligence will contribute an estimated $15 trillion to the global industry. 
However, most businesses that want to benefit from AI face substantial barriers. Some people need more knowledge and tools to do the job, while others need more guidance to use those tools effectively. To bridge this gap, most businesses turn to AI consultancies. 
The internet is flooded with questions regarding the best AI consulting firms in 2023. So, this blog will guide you through the top AI consulting firms in the US. These are the companies that are hired by the government as well as the leading product development companies across the world.
Why Do You Need to Find an AI Consulting Partner?
Consider products with AI integration as essential pieces of the world's puzzle. These inventions, especially the brilliant ones like ChatGPT, are in high demand. The problem is that despite increased demand, there is insufficient supply. This snag results from a knowledge and resource gap that needs to be filled.
We are in a journey where technology is still developing, and businesses need help identifying the top brains to hire for their endeavors. The link between companies and the developers is where AI consulting firms come in.
The experts that help businesses scale AI products with confidence are, as the name implies, AI consulting firms. AI consulting firms catalyze as well as advise. They are the troubleshooters, bringing together reality's potential with tech-savvy aspirations. These consulting firms thus stand tall, illuminating a path to a future where innovation is the norm and improvement is the aim as industries struggle with the AI puzzle.
Exploring the Top AI Consulting Firms US
Now that we've outlined the criteria for selecting an AI consulting firm, let's dive into the leading players in the US AI consulting landscape.
1. advansappz
Lastly, advansappz is your one-stop solution for the most trusted technology services and consultation. Their expertise extends across industries, helping businesses harness the power of AI to optimize operations, drive growth, and unlock untapped potential.
Advantages: 
Unparalleled expertise:
The team comprises seasoned AI experts with a proven track record of delivering tangible results. With years of hands-on experience, they understand the intricate nuances of AI implementation across diverse sectors.
Tailored Solutions:
advansappz experts don't believe in one-size-fits-all solutions. They craft bespoke AI strategies tailored to your unique needs, ensuring that your AI journey aligns perfectly with your business goals.
2. IBM Consulting
IBM has been the frontman of technological innovation for over a century now, and as a result, the company's involving division is unrivaled in the field of artificial intelligence. Their methodology is based on ethical AI principles like accountability, fairness, transparency, and explainability. IBM's global reach and comprehensive resources allow it to enhance its customers' supply chain efficiency and advertising efforts.
Expertise Highlight: IBM Consulting is committed to ethical AI development by participating in groups promoting the field.
Advantages:
Transparent AI Solutions:

IBM Consulting places a premium on open communication with clients, explaining how they make their AI-based decisions in detail. 

Fairness in Algorithms:

IBM Consulting places a premium on integrity when creating AI solutions because they understand the importance of impartial information. 

Accountable AI:

IBM Consulting is raising the bar for accountability with their AI solutions by guaranteeing their efficacy. By making this pledge, the company promises to only use AI in ways that are good for society and in line with the highest ethical standards.
3. Boston Consulting Group (BCG)
Fifty years of experience have led to the creation of novel AI frameworks and tools by BCG, which impact a wide range of sectors. Their banking and transportation AI projects are just two examples. BCG's AI @ Scale strategy prioritizes large-scale optimization and simulation in addition to structural shifts.
Key Takeaway: BCG is a top option for businesses seeking AI-driven expansion because of its extensive AI services and focus on internal changes.
Advantages:
'AI @ Scale' Strategy:

BCG's 'AI @ Scale' strategy is one of the company's greatest strengths because it ensures the introduction of AI solutions and their effortless expansion across the entire business. 
Building Internal Skills

: Besides providing advice, BCG helps businesses build in-house AI capabilities. 
4. Cambridge Consultants
Data scientists and machine learning engineers at Cambridge Consultants are making headway in deep learning with the help of Capgemini Invent. They're committed to bringing AI to a broader audience and various use cases. Their continued leadership in advancing AI technology directly results from their partnerships with academic institutions.
Innovation Highlight: The Cambridge Consultants' dogged pursuit of Deep Learning is a motivating case study of AI's promise.
Advantages:
Technical Ingenuity:

Employees at Cambridge Consultants have exceptional technical understanding, and they drive the development of novel AI applications that regularly shake things up in their industries.

Market Impact:

Their AI solutions have entered the mainstream by incorporating deep learning and state-of-the-art technologies. With this plan in place, they can keep up with customer needs.
5. Capgemini
Capgemini is leading the way in the AI solutions development race because it has rethought the possibilities for businesses of all sizes. Although they provide a wide range of services, including strategy creation, implementation, and upkeep, their core competency is guiding clients toward artificial intelligence. Capgemini's AI specialists advise maximizing AI's benefits in work efficiency, customer satisfaction, and organizational simplification.
Advantages:
Operational Optimization:

Capgemini's AI software streamlines operations, reduces costs, and improves data-driven decision-making for businesses.

Advantage Over Competing Products:

Capgemini aids its customers in competing in today's technology-driven market by developing AI strategies in line with business objectives.

Global Harmony:

Their AI products cover you from strategy development to rollout.
6. Flexion
: 
Flexion marks its position amongst the top AI consulting firms in US due to its intelligent and effective business automation strategies. Their experience in AI software like CV(computer vision) and analytics is par excellence. With this level of expertise, they enable businesses to make informed and efficient decisions.
Advantages:
Because they have specialists in so many different branches of AI, they can customize their services to meet the requirements of any specific client.

Flexion's AI-driven automation techniques increase productivity in many ways, including by standardizing procedures and using the resources at hand better.

Flexion's cutting-edge services are based on the company's in-depth understanding of artificial intelligence and its capability to upend firmly established industries while giving startups a leg up.
7. EY
The consulting firm EY operates on a global scale. The company is at the forefront of the artificial intelligence consulting industry due to its proficiency in data strategy, solution development, and analytics. EY is in a prime position to be a forerunner in developing ethical AI because of the breadth of its network.
It is important to remember that EY will only release artificial intelligence solutions if they comply with all applicable laws and ethical standards.
Advantages:
EY is deeply concerned about AI's responsible and ethical application. They see the creation of morally sound AI as a means to a better world.

EY uses its global reach to scour the globe for data crucial to its customers. This helps develop AI strategies that generate several viable solutions to a problem involving multiple variables.

Developing a data-use strategy, designing a solution, and gaining valuable AI insights are just a few of the many advantages of EY. Their plan is all-inclusive, touching on every possible concern.
8. QuantumBlack
QuantumBlack, a McKinsey subsidiary, provides artificial intelligence (AI) solutions to enhance workflow, decision-making, and client interactions. Consider Emirates Team New Zealand's use of AI and simulation technology in their defense of America's Cup as an illustration of AI's use outside the business world.
One of the many AI applications outside of business is QuantumBlack's involvement in the America's Cup defense.
Advantages:
For everything involving AI(Artificial intelligence), ML(Machine learning), and data science, turn to QuantumBlack.

They use state-of-the-art techniques from data science and artificial intelligence to advance many fields.

Due to their wide range of skills, QuantumBlack can handle a variety of problems. Predictive analytics, computer vision, and natural language processing are all subsets of this larger field.
9. Deeper Insights
Deeper Insights is at the forefront of ground-breaking top AI consulting firms in US thanks to the quality of its data insights and state-of-the-art analytics. When using their methodology, their customers know they are making choices that will lead to expansion. Prominent industry portals have recognized them as a leading AI consulting firm, attesting to their unparalleled expertise and success in the field.
Advantages:
Expertise in AI:

This firm is well-known for innovating in the consulting industry, particularly in artificial intelligence.

Data-driven strategies:

Deeper Insights equips businesses with the tools to increase productivity and revenue through data-driven strategy.
How to choose your AI partner – Tips from advansappz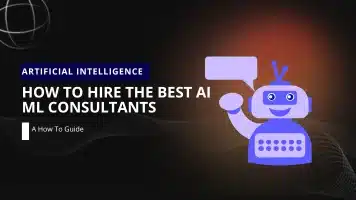 1. Exploring the Vendor's Specialization
Start by investigating the specialization of potential AI consulting companies. Differentiating between businesses that provide true AI consulting services and those that are purely development-focused is crucial. Results can be more effective and economical when an AI consulting partner can provide cutting-edge technological solutions that align with your vision.
Pro tip: Get in touch with businesses offering free advice over the phone because they are frequently willing to comprehend your needs before formal collaboration.
2. Scrutinizing the Vendor's Portfolio
A consulting firm's portfolio is a gold mine of information about its capabilities. Look for companies that have offered solutions corresponding to your needs in the past. These companies are probably well-versed in your industry, which will help you save time and ensure clear communication.
Remember: While prior experience in your particular niche is advantageous, firms specializing in AI consulting services can still provide insightful advice even if they lack specific expertise in your field.
3. Defining Clear Business Objectives
Defining your business objectives precisely before contacting potential AI consulting partners is critical. Write a concise one-pager outlining the objectives of your product from a business standpoint. This document acts as a filter, enabling you to communicate with businesses that provide workable solutions for your needs.
Time-Saving Tip: By outlining your business goals in advance, you can shortlist AI consulting companies more quickly and with less time and effort.
4. Gauging Social Proof
Take into account social proof to confirm the legitimacy of a consulting firm. Online directories like GoodFirms.co and Clutch. Co-host reviews and ratings from previous customers. Utilize your network as a resource for advice and knowledge as well.
Conclusion
The rapidly expanding capabilities of artificial intelligence (AI) will have far-reaching effects on businesses of all sizes. Choosing the best AI consulting partner is crucial for full AI integration. 
advansappz appreciates how AI can help businesses advance. As a result of this commitment, the artificial intelligence consulting services we offer are among the most innovative and effective in the industry. 
Consider these tips as you begin your AI journey, and choose a consulting partner who can help you maximize AI's potential for your business.
Frequently Asked Questions
The United States is home to a thriving AI industry with a wide range of companies leading the way in various AI-related fields. Some prominent AI companies based in the USA

Advansappz: Advansappz is an emerging AI company in the USA that specializes in [brief description of Advansappz's AI focus, products, or services].
Google (Alphabet Inc.): Google is known for its advancements in machine learning and AI, powering various products and services, including Google Search, Google Assistant, and Waymo's self-driving technology.
IBM: IBM's Watson is a well-known AI platform used in healthcare, finance, and other industries for data analysis and decision support.
Microsoft: Microsoft Azure offers a robust AI and machine learning platform, and they are also the creators of the conversational AI system, Microsoft Bot Framework.
Amazon: Amazon Web Services (AWS) provides a suite of AI and machine learning services, including Amazon SageMaker, for businesses to build AI-powered applications.
Facebook: Facebook uses AI for content recommendation, facial recognition, and more,
The USA is considered a leader in AI due to its robust ecosystem of tech companies, top universities, and government support. It attracts global talent and investments, fostering innovation. Access to vast datasets and a culture of entrepreneurship further fuel AI advancements. Government initiatives like the National AI Strategy contribute to its status as a top destination for AI research and development.
An AI consultant is a professional who specializes in advising businesses on how to effectively implement and utilize artificial intelligence technologies. Their role involves assessing a company's specific needs, recommending AI solutions, and overseeing their implementation. They also provide guidance on data strategy, machine learning algorithms, and AI ethics, helping organizations harness AI's potential for improved efficiency, decision-making, and competitiveness. AI consultants stay updated on the latest AI advancements and tailor their expertise to align with clients' objectives, ensuring successful AI integration.